In Phuket's tropical, windy and humid environment, it is of utmost importance that the construction materials used are chosen and installed correctly, with quality in mind.
Rawai Beach View Residence gives owners the confidence and the satisfaction of knowing that their apartment has been built with the best quality building materials available, ensuring a quality and safe investment for many years to come. With not only the best quality building materials but also some of the best internationally recognized brands for interior furnishings and finishing's.
Foundations:
Concrete footings with 32 x 12m piles underneath each footing with full anti termite systems included.
Structure:
Reinforced concrete column & beam system with concrete and steel top beam using full and top quality 25mm steel down to 6mm steel 280ksc and 240ksc strength industrial concrete delivered on site from C-Pac one of Thailand's blue chip companies. Red brick 2 layered walls with cavity to stop noise and to keep heat out while keeping the cool in and adding extra strength.
Walls:
3 coats of plaster To be flat plaster finish, coated with tiger skimming plaster then sanded and painted, giving a beautiful smooth finish better than anywhere else in Phuket.
Ceilings:
Bedrooms – Coved ceilings to be 10mm gypsum board with insulation on 1 side.
Living Room & Kitchen – 10mm gypsum boarding with insulation on 1 side.
Floors – Living area & Bedrooms:
60 x 60 high quality Cotto ceramic tiles.
Terrace:
60 x 60 high quality Cotto ceramic tiles.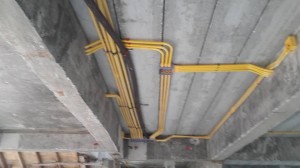 Electrical:
All wiring to be concealed and in worldwide standard PVC conduit. Earth wires to be run to all electrical outlets & hardwired components and to terminate at an approved earth spike. Switch plates, switches, 3 pin sockets, TV sockets in 2 bedrooms and living room. 3 phase electric throughout with transformer outside to protect against electric surges.
Electrical supply:
Underground wires from main supply from 3 phase transformer at front of apartments grounds. Individual meters for each villa connected to main meter.
Windows & doors:
High Quality White PVC windows and doors with clear or green tint standard. Interior doors in hardwood.
Plumbing:
Hot water to be circulated in PPR pipes from 2 x electric instant hot water multi point machines per unit. Cold water supply to be in worldwide standard PVC conduit. hidden above gypsum ceilings with easy access hatch.
Air conditioning:
Wall type split units with remote control. All apartments with 3 units. Samsung technology quiet running 18,000 btu units.
Water Supply:
Water from deep water bored well over 60 meters deep with reserve tank well hidden under ground level and pumped to each unit with high powered pumps. Individual meters for each apartment.
Bathrooms:
Shower walls to be ceramic tiles over concrete walls with glass doors and glass walls.. Rain shower head with Hot & Cold water taps. Counter top to be concrete structure with built in cupboards under the counter top, in master bathroom his and hers double sinks. Toilet and sink to be American Standard, Cotto or equivalent in white color with hand spray fitting. 2 Mirrors in bathrooms.
Built-in Furniture:
Includes high class kitchen with appliances (hob, oven, hood fan, sink and taps).built by internationally recognized branded company with full guarantees.
Internet/TV:
Provide 3 telephone line connection and cable/satellite TV sockets. (Wi-fi to be fitted throughout the building with separate log in details for each apartments separate account.
Waste treatment:
All grey & black water to be piped by gravity feed to an individual septic tank hidden below the apartment ground level.
Pool with Jacuzzi:
10m x 5m swimming pool with 4 inch ceramic tiles with non slip tiles for steps and borders with and stainless steel handrail and non slip pool side flooring
1 filter tank
1 filter pump
1 automatic chlorine filter
4 underwater spot lights 100W 12V all housed out of sight and out of noise
Wall fences:
Boundary walls to be 2 meter high privacy walls with flat plaster finish around pool.
Landscaping:
Garden area to be landscaped with tropical plants and trees and with locally sourced flora with Thailand natural rocks and stones for features.
Car Parking:
Covered car parking with security gate and intercom features.